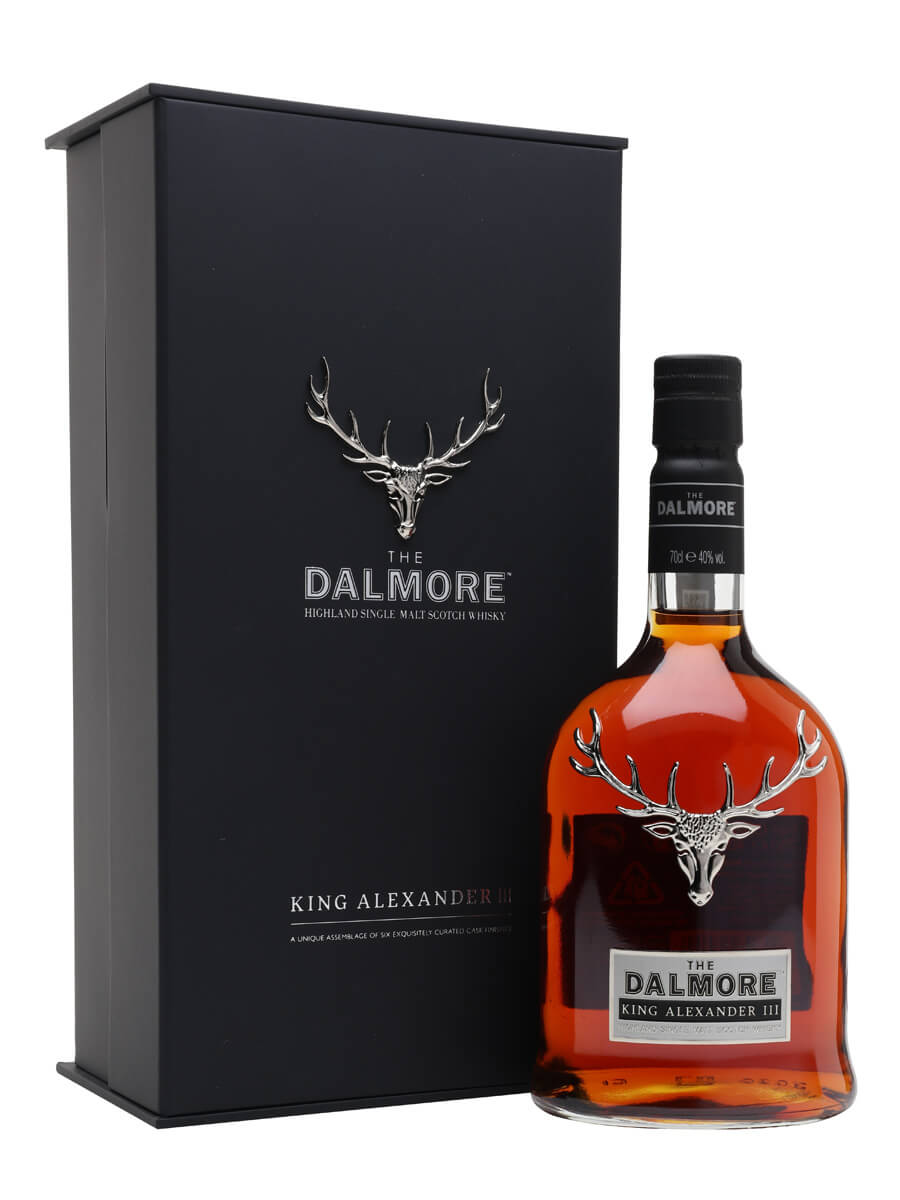 The Dalmore 1263 King Alexander III
Highland Single Malt Scotch Whisky

40% abv

£120

Yesterday Dr. Whisky received its 200,000th unique visitor. Lots of whisky curious folks out there. Blows my mind, actually. Thank you all so much for reading, linking, sharing and coming back! Maybe we can get our video up to 20,000 visitors this week, too?

Let's finish our Dalmore "week" here on the mission.

One is reminded when looking at such darkly coloured malt whisky that Scots of old used to drink this spirit straight off the still, clear, estery, and potent as owt. By the 1820s, resourceful folks had found the benefit of borrowing oak transportation vessels for wine, sherry, vinegar, herring, etc. and using them to store their spirit. Quickly, folks realised that it would lose some of its fire (both from evaporation, angel's share, and extractive qualities of the wood), become more complex in its aroma and flavour, and take on an gorgeous colour. I imagine the fishy casks would have quickly lost out to the wine ones.

During the 1970's, 1980s and '90s the Master Distiller of The Dalmore, Richard Paterson, filled French wine casks, Mediterranean Madeira drums, Sherry butts from Jerez de la Frontera, Spain, Marsala barrels from Sicily, Port pipes from the Douro and sweet Bourbon barrels from Kentucky with Dalmore's new make spirit. For the launch of this new product he selected the best of these casks, blended them as only he can, found a

good bit of distillery-relevant history upon which to hang a story, and thus named this whisky 1263 King Alexander III.

From the distiller's notes:
"In 1263 the ancestor of Clan Mackenzie saved King Alexander III from being gored by a stag with a single arrow. The grateful king granted him the right to bear a stag's head in his coat of arms, with the motto 'Help the King' (Cuidich 'n'Righ, in the Gaelic language). The Dalmore distillery was long owned by the Mackenzie family, and every bottle of The Dalmore is adorned with this noble emblem: a stag's head, with twelve pounts to its antlers, signifying a 'Royal'."



TASTING NOTES:



Starchy and weighty with oak and dried fruits. Synthetic fruit bubblegum and roasted sweet potatoes with fresh rolling tobacco and some raspberry, too.

Enveloping oak and chocolate, with orange rind and dry wine influence to balance the sweetness. Rich and spicy throughout with a white grape, red plum, and honey sweetness that holds balance against the more bold sherried tones.

SUMMARY:

A very Dalmore-y, rich, sherried-style malt with the added excitement of fruitiness from maturation in French wine and Italian marsala casks; sort of a Cigar Malt/Gran Reserva "DeLuxe".
To be fair, it's an odd one, but so is its creator; he won't mind me saying so.
Malt Mission #286
Malt Mission #287
Malt Mission #289
Malt Mission #290
Malt Mission HOME