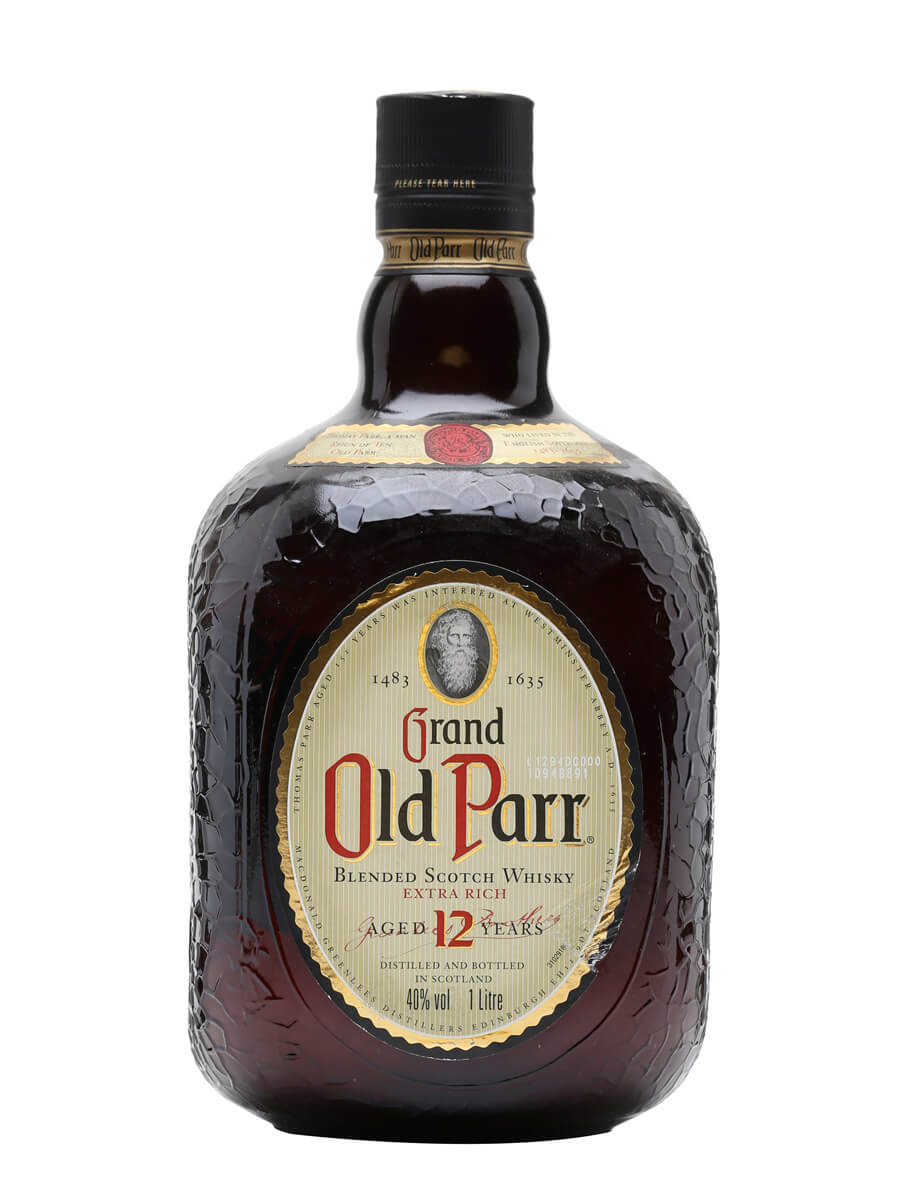 Grand Old Parr 12yo
DeLuxe Blended Scotch Whisky
43% abv
£24.99


Available in most latin American markets, the far east, and SOME duty free shops, Grand Old Parr is not often seen on these shores. Shame, too, cuz Jim Murray awarded the Old Parr Superior 18yo as the best whisky he tried in his 2007 edition of his Whisky Bible, awarding it a 97/100, the highest mark ever awarded to a whisky in the book's history. This was quite a story, and stirred up a bit of controversy both about (the lack of) UK marketing obscurity of a quality Scottish product and some who find Jim Murray objectionable.

I love his book Classic Blended Scotch(1999) and do not take any issue with one man's opinion on whisky. What does piss me off, however, is a quote like this, "To get recognition from an expert like Jim Murray is just great news, particularly for blends that perhaps haven't been as well known by the public. It's good for Scotch and good for Scotland," from Peter Smith of Diageo. It is a great thing for the blend, no doubt, but you cannot even buy the 12yo in Scotland, let alone the 18yo. Of course they wont be 'known' to the public when you continue to keep JWBlack as your only entry in the "deluxe" category in the British market just to fight a brand war with Chivas 12, and when you flood supermarkets with Bell's to maintain Microsoft status to Famous Grouse's Apple (maybe not the most accurate comparison, but deal with it). Ridiculous when you have this whisky and Buchanans and Black&White and MORE that could be "good for Scotland" IN Scotland and the rest of this island. These are old, historical, well known blends to be proud of. Their histories are largely responsible for the ability of the single malt mania of the past decade to occur at all. Would Glentauchers have stayed open if it wasnt going into blends? Glendullan(a big part of Old Parr)? Mortlach? My beloved Clynelish?

Why new markets like China should be getting more than your average whisky lover in, say, Sheffield is able to find, is just absurd. I know Sukhinder and Rajbir Singh with The Whisky Exchange get their hands on many of these, but other specialty shops should also have the chance to. Anyways, rant over.

Hope I have not gotten ahead of myself. Maybe we dont want this stuff anyway! Lets taste.
(more on the namesake of this whisky can be found HERE)

TASTING NOTES:

Fruit sweetness, pears, pinapple juice. Some spice beneath. Faint rubbery sourness. Sweet vanilla grain whisky, with a slight alcohol burn. Oak and smoke buried beautifully like a hot-water-bottle warming your bed kept down at your feet or just behind your knees on a cold February night (okay, our heating is shite/we are cheap).

Big mouthfeel. Rich and smoky, sherry, wine, chocolate milk. Pleasant hotness. Oatiness, cinnamon and vanilla. Toasted oak and burnt sugar, with some smokiness still on the finish.

SUMMARY:

I like this stuff. Found this bottle at Charles de Gaulle duty free and had to buy it. If you have the chance, grab some. Like the Buchanan's, it is less complex than the JW Black, but makes up for it with firm conviction in its flavours, richness, and supple mouthfeel.


Malt Mission #25
Malt Mission #27
Malt Mission #28
Malt Mission #29
Malt Mission #30
Malt Mission HOME