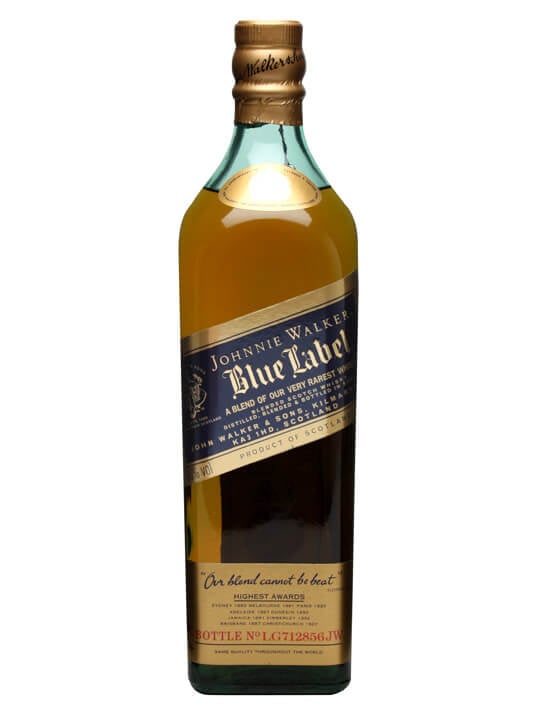 Johnnie Walker Blue Label


A Blend of our Very Rarest Whiskies
43% abv


£130


$230(CAD)


$200(USD)



Like it or not, Johnnie Walker Blue Label means 'the best whisky' in almost every language in the world.

The stuff is legendary by managing to create a mystique through clever(and often misleading) advertising and tight-lipped secrecy regarding the recipe. That being said, I have done my best to gather what I can about the recipe.

So, what is in Johnnie Walker Blue Label? It is said to include some very aged whiskies, including a drop of ancient Royal Lochnagar, sherried Blair Atholl, smoke from Caol Ila, and whiskies from closed distilleries including a 1923 Auctertool. About the recipe, Charlie Maclean told me, "It varies, but there will always be a tiny amount of old Cardhu (maybe only a tea-spoon), almost certainly some Mortlach and Clynelish and Caol Ila or Lagavulin."


Kevin Erskine at the informative and often hilarious Scotch Blog has addressed some concerns around Diageo and the marketing of Blue here and here, so lets look at something else... PRICE.


Is the price justified?

What is interesting is the absolute variety in pricing across the board. I have seen Blue priced anywhere from £60 to £150
(currency translated)
in varied markets. So is its value just based on market or is there an intrinsic WORTH. If it is the only way to taste, say 1923 Auchtertool, then that must be

worth

something. But how much? How do we tell?

Lets just say this Auchtertool existed as a bottle on the market, it would be a conervative estimate to assume that it may fetch £30,000(?) as a single rare bottle from a demolished distillery distilled over 80years ago. Now lets say that there is one millilitre of the stuff in every bottle, then that would make it quite a deal to have £400 worth of old whisky for circa £120. But what if it is mixed with shit(not that this is necessarily the case), does it retain its value?

Too dramatic? Funny you shoud say so, cuz some irony lies in the fact that a housing estate currently exists on the site of the old distillery called 'Brookside' (yes like the tv series, a UK soap, RIP 1982-2003).

Say a bottle of similarly priced whisky, Talisker 25yo (£105), Glen Moray 30yo(£130),
Glengoyne's Peter's Choice,
or one of the best whiskies I have ever had, Balblair 38 year old(£140)... how do they compare, or rather, how does JW Blue compare? The quick answer is that it simply would not stand up in that company. Not at all.
(Hey, Diageo, just read profits are up. Good for you. If you want to prove me wrong re. Blue vs. Tali 25 do be in touch for my mailing address. I will gladly do that research)

And many of us rely on taste to determine the worthiness of a given food, wine, or whisky, so is that fair? Surely rarity affects cost (truffles? blue diamonds?), just think of the aaawful Loch Dhu, currently going for a STOOPID amount, or the excellent AND affordable Glenglassaugh releases, 19 and 22yo, and it becomes clear that market demand is ultimately the only way to assess that value.

Perhaps if they did give us SOME clue as to what piece(s) of history we are tasting, a more justified respect may be earned by the product. Or maybe they dont need that kind of respect, they have the steady cash flow of countless Wall Street boys, well-intentioned folk who want to get Dad 'something nice', wealthy Russians, Emirs and sheiks to keep Johnnie Walker Blue's paragon status.

As always, comments welcome and encouraged.

Enough typing, let's drink some.

TASTING NOTES:

This is somehow warming my top lip, not a hard edge to be found, the softest of childrens toys... for adults. It makes me have a vague sense of having to sneeze it is that stimulating, there is a physical impact. Amazing. Honeyed smoke and lamb fat, chicken soup. More smoke acting like the defining colour for every sensation: apple peel, creme brulée, raw potatoes, gin/juniper berries, oak panelling in a friend's basement.

Soft entry, but upon swallowing it explodes with a tingling alcohol sensation that evolves straight past mid palate experience to a finish, which has honey, smoke and wood. I am convinced that there is lots happening but I am numbed by the alcohol and cannot unpack it.
Am I wrong? The pros got more than I seem to be able to...
To be fair to JW Blue, and you, I have to get the opinions of others to see if I am crazy.
Johnnie Walker Blue, meet Kristin and her brother, Espen.

They both agreed the nose was big, beautiful, complex, and very inviting. On the palate, Espen says "steel taste". Kristin is convinced it is "like eating a cloud". I have cut it at this point and find soil, salt and latex, like chewing on a balloon. On the finish, Espen observes that "it stays forever". Kristin smiles, closes her eyes seductively, and only wants more. Cut, I find it much more tolerable in that it has lost its nails. But contrary to what I thought was buried behind the boozy bite, there is not a huge complex array of flavours but rather a concise package of oak, flowers, chocolate and pear or apple. Sexy, seductive, but not worth cheating on a better woman.

SUMMARY:

Kristin's line when we first had this whisky was memorable among our friends. She said, paradoxically, "You can't drink it quickly, but you wish you could drink it all night." I suppose many would like to drink it all night, I simply couldn't afford that, and for the price, I would certainly buy something else. That being said, there is a sexiness about it, it is a sensual drinking experience. It is a whisky that takes time, and benefits from time in the glass.

At a tasting I was hosting, Charlie Maclean told me to suck an ice cube before drinking it and note the silk effect of the spirit as it slides down my throat. Any spirit that benefits from numbing the tongue, even if recommended by a legend, is suspicious in my mind. Nonetheless, the currency this label has around the world as THE status symbol and THE embodiment of "the best whisky" makes it an impressive gift, just one that I would never give.
Malt Mission #31
Malt Mission #32
Malt Mission #33
Malt Mission #34
Malt Mission HOME