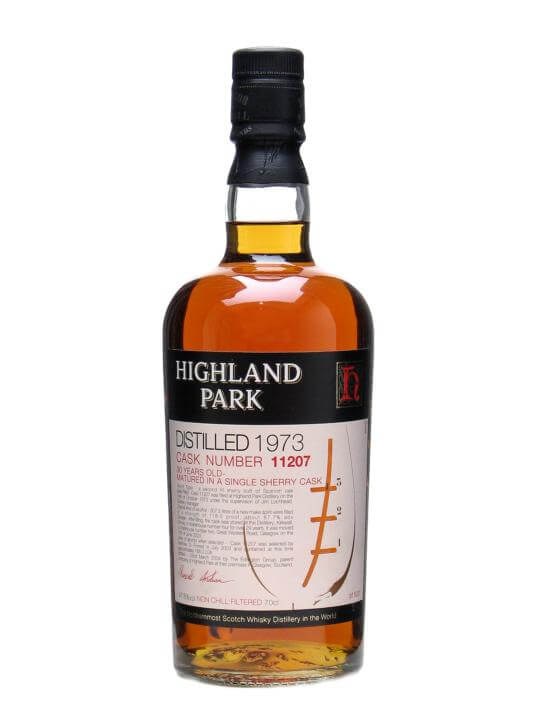 Highland Park 1976


Single Cask Single Malt Whisky
Bourbon Cask, #4508
52.7%abv
£195.00

The third Highland Park to be enjoyed in this malt mission, creating Highland Park bookends to week 8. EIGHT!!! I can't believe this is still going... and currently, I have at least two more weeks lined up, with more in the works. THANK YOU!

I have already told you about the distillery and some of the notable facts in its history. But what I think is just amazing, and puts this whole single malt craze in perspective, is to realise that in 1989, when Michael
Jackson published his first "Malt Whisky Companion" (currently in 5th edition) he had only a Gordon&Macphail 8yo(cask sample), a distillery bottling 12yo, and 24you cask sample from Cadenhead's. It wasn't until 1997 that the 18yo and the 25yo were launched and 2005 that the 30yo came into the market. Additionally, please note the pic to the right is not the exact vintage tasted, but of the same design.

I think it is important to note these facts because from
the current perspective of a whisky market that is spilling open with new releases, finishes, single cask bottlings, new independent bottlers, etc., it is easy to take it all for granted as the way things have always been. In fact, the last time things were so good for the whisky industry, a crash followed, and the time before that, led to
an even bigger one. If I have time this weekend(my Unc is in town) I will write more about this fragility and the future of whisky in part 3 of my blends series.

For now, let's drink this baby, distilled in my year of birth... Happy 40th, malt mission!

TASTING NOTES:

Very hidden, closed nose. Will need water as trying to dig deeper with my nose leads to a pretty big prickle(53%!). I wait and it does start to open up: vanilla and cinnamon, but in an artificial scent, like cleaning agents, or scented candles. Saffron and clove infused basmati rice. Quite complex, but a struggle to pull each piece out. Time helps this beauty open up, glad I didnt add water. Finally, I get banana bread, waffles, sweet baked goods. Maple and smoke. Vinegar and salt.
Musty leather, wood, and polished brass, like an antique market.

Gorgeous mouth feel with flavours that go from grainy like rye to smoky to salty to licorice to fresh churned butter with smoked salmon... There's more, I just can't type fast enough. Great chewiness, pipe tobacco, an almost bitter edge like raw grains or good Danish rye bread (I already said that...) Weaving, always moving, quite exhilarating in the way the flavours are active and swirling to the senses. Finish alternates between smoke from doused fire on one hand and a lovely vanilla, bourbony sweetness with some burnt edge, like creme brulée. Anise at the dryest end of the finish. And that is only based on two sips! This stuff delivers.

SUMMARY:

Stellar. Tastes expensive. I couldnt keep up with all the impressions I was getting, which is fantastic. I can see one serving lasting me a

long

time. At the price, it would have to. Worth every penny, tho, if you have that many pennies.


Malt Mission #36

Malt Mission #37
Malt Mission #38
Malt Mission #39
Malt Mission HOME