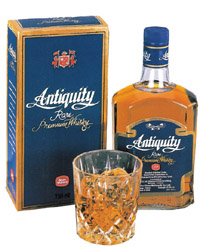 Antiquity Rare




Premium Indian Whisky


42.8% abv
$20 (USD)

From the spirits stable of Vijay Mallya's United Spirts Ltd (UB Group), Antiquity is a high end Indian whisky and is among the most expensive domestic spirits on the market.

Now, I should probably be putting "whisky" in quotation marks as the SWA, EU and WTO consider whisky "an alcoholic beverage distilled from a fermented grain mash" and 90% of all Indian whisky (this one included) is made with molasses-based spirit, thus not really "whisky" at all. Nonetheless, all over this label one finds the words "malt" and "whisky", among other authenticating descriptors like "finest", "royal lineage", "matured oak casks" and "traditional copper stills." However, although there are no clues on the box, it does clearly state on the bottle "Distilled from Sugar Cane Molasses. 19% matured malt and vatted malt spirit, 3 years old."

Antique, indeed.

In May, 2007 Mallya bought Whyte & Mackay thus securing a supply of Scotch whisky for his 'whiskies' and, in combination with his substantial press draw as the showy, jewellery-laden Indian billionaire playboy, the acquisition afforded him some lobbying power within the whisky world. So far, he has promoted no great ideas and has cut 100 Scotland-based jobs within Whyte & Mackay.

For an SWA-approved Indian whisky had on the mission, click HERE.

TASTING NOTES:

Sweet, with and industrial core. Grape juice and apple juice, vodka, balsa wood, glue, corn syrup, metal, motor oil, and white wine can all be detected. Strange brew.

Smoky, plastic, brasso. Pistachio and oil paints, glue, apple sauce and something reminiscent of a smoker's car. Dandelion bitterness. Oak. Starts much better than it ends.

SUMMARY:

Odd stuff, no surpise there, but actually tasted much better than expected.
I chose to sip it more than a few times and although the initial taste was actually quite pleasant, I grew to regret the decision every time.

Crazy, and inexplicable abv%. Any explanations or hypothoses welcome.

Malt Mission #361

Malt Mission #363
Malt Mission #364
Malt Mission #365
Malt Mission HOME