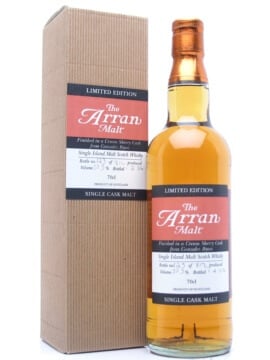 Isle of Arran

Cream Sherry Cask finish(Gonzalez byass)
Island Single Malt Whisky

57.5% abv

£39.99

$78(USD)

Another one of Arran's gazillion finishes... and, to be fair, many of them have turned out pretty darn well.

We've had Arran on the mission before, but it is always a treat. And we are always ready to try more as the results from this new distillery have been very promising since opening in 1995. Arran was the first distillery on the island bearing the same name since Lagg distillery closed in 1836. The stills are similar to those at Glengyle(Campbeltown) and their washbacks AREN'T oregon pine but larch and Norwegian spruce. Whistle melody here... "she once had me," etc.

Short on time so short on words. Let's get down to business...

TASTING NOTES:
Big toffeed sweetness, sherry, candy apples. "Coffee Crisp"(a very Canadian tasting note brought to you by JM) Chocolate milk. Cereal, and a slight vegetal element. Glue. Quite gentle on the nose for the abv%.

Slightly punchy, but some really wimpy punches. Sugar in tea, balsa wood, freshly baked cookies, apple cider, flower gardens. A caramelised element as well. Turns toasty as burnt sherry flavours resonate through the finish.


SUMMARY:


Sweet, but remarkably pleasant. Autumnal whisky, whisky for when its not quite warm enough for a shorts or young bourbon-cask Speysiders, but not quite cold enough for woolly jumpers or heavily sherried peat monsters. October, trick-or-treat whisky.


Malt Mission #161
Malt Mission #162
Malt Mission #164
Malt Mission #165
Malt Mission HOME