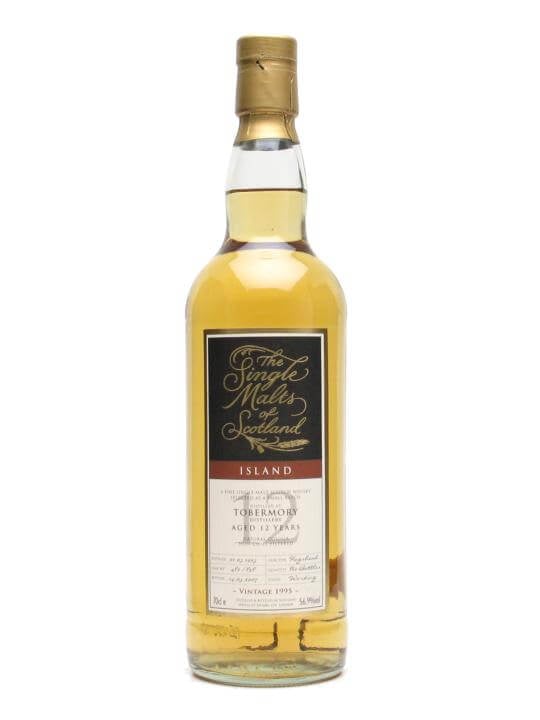 Tobermory 1995 12 yo


The Single Malts of Scotland
Island

Single Malt

Whisky




56.9% abv




£29.99



So I learned later in the day yesterday that The Independent ran an obituary for Michael Jackson and that the Telegraph had done so over the weekend. So no more bitching from me about the lack of attention his passing attracted in the British press. I promise.

This is the first Tobermory (or Ledaig) I have had on the Malt Mission. Tobermory is a distillery on the Isle of Mull, a gorgeous island with adorable towns all within easy reach of the mainland via Oban. Tobermory is one of the nine(9) distilleries still in operation that was built in the 18th century. Originally christened Ledaig in 1798, it was called Tobermory after the town in which it is located. It is, and always has been, the only distillery on the island but has had a split personality since its birth. Bottlings released as Tobermory, about 5% of production, go into an lightly peated 10yo single malt sold in a green dumpy bottle. About 10% of production is released as a heavily peated expression called Ledaig. The rest finds its way into blended whiskies in Burn Stewart Distillers' stable (Scottish Leader, etc.) and beyond.

The distillery was closed many times during its long history. On one of those sad occasions, in June 1930, it was used as a power station and a canteen. Additionally, after the stills were removed it was rented to a local dairy farmer to mature the famed Isle of Mull cheddar, and, according to Misako Udo, was closed down after a hygiene disaster. Let your imaginations run wild.

This bottling is a single cask offering from the ever-expanding line from The Whisky Exchange/Speciality Drinks called The Single Malts of Scotland. Other bottlings in the series tasted on the mission can be found HERE.

TASTING NOTES:

Two planes of aromas, can be generally classified as the malty and the sweaty. But there's more at work here. A lot of smells I am personally nostalgic for: Candy apples, salt water and potatoes, Clearasil, Neilson's Jersey Milk, SaraLee chocolate cakes, ginger and soy sauce.

Big chewy maltiness that envelops your mouth but quickly pulls back in, becoming slightly astringent.
A drop of water not only mutes the astringency but really opens up a barrel of fermenting fruits and sugar.
Medicinal characteristics too, Alka Seltzer, herbal throat lozenges, acetaminophen. Chocolate and berry jam in the medium-length finish with a maritime saltiness, too.

SUMMARY:

Like songs on an old cassette, "Summer Mix 1986", that take you back in time, this dram really transported me. And to be totally honest, I am surprised to have enjoyed this as much as I did. Brilliant island character with a good depth of flavour. Enjoyable in the nose, a challenge on the palate. No, not sophisticated or subtle, but hearty and distinct.

Malt Mission #151

Malt Mission #153
Malt Mission #154
Malt Mission #155
Malt Mission HOME