Compass Box Hedonism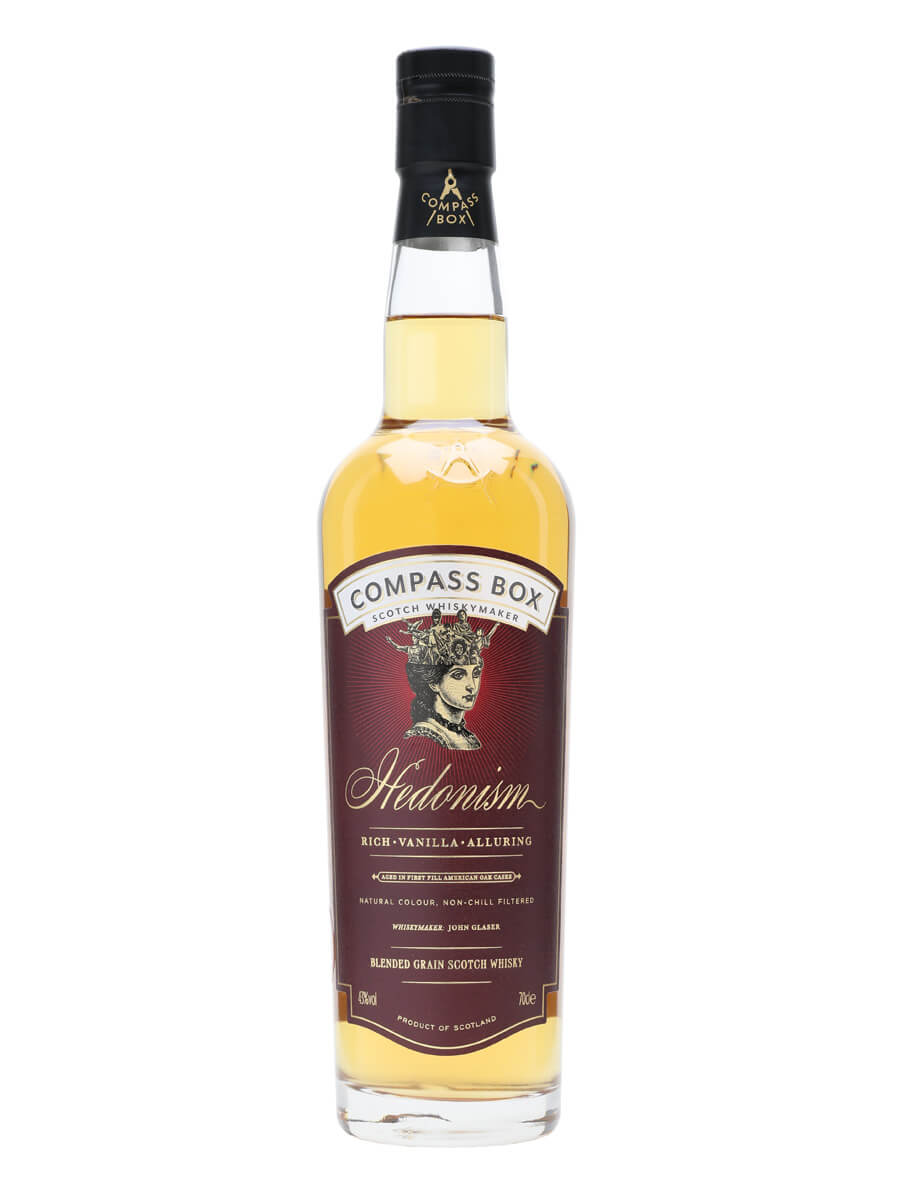 Limited Release #H25 MMVI
43% abv
£40



What an amazing weekend!

Good weather, good friends, great times, Sens beat the Ducks, and while I was ignored in Whisky Magazine's piece on blogs (issue 64, p.30), Dr. Whisky was featured in the Sunday Post(Scotland).

So I am very exited to announce week TWENTY of this Malt Mission. I wonder if I will ever stop celebrating the start of each new week... I guess it is just that I had no idea that this would last beyond around 30 whiskies. To celebrate I will be tasting whiskies I love (that we haven't already had), or at least ones from distilleries/producers that I hold close to my heart.

We will start with a new(ish) release from Compass Box. This is part of the limited release series they launched in late 2006, the idea being to release special or unique small-batch or single cask bottlings on a theme, most of which cannot be repeated or produced on a large scale. Sweet new look, too.

Hedonism is a 100% grain whisky, like the first whisky of the same name, introduced by Compass Box back in 2000. Because of the nature of the rarity of the component parts that make up Hedonism, it has become a part of this limited release range as sourcing the aged grains happens on a very small scale. The coding for the Limited Release # works for all in the range, with the first letter being the first letter of the expression ("H" in this case), the number being the age of the oldest whisky in the batch (unusual, but cool, and in this case "25"), and the Roman numerals indicate the bottling year ("MMVI", 2006)

I tasted an older Hedonism release at Malt Mission #74, and all Compass Box appearances in this Malt Mission can be found HERE.

TASTING NOTES:

With faint whiffs, this is full of Oil of Olay-type face creams. With deeper nosing there is vanilla, jojoba suncreams, some herbal liquor elements, and green strawberries. delve too deep and the nose prickles.

Sexy, silky entry in the mouth, with bourbon creaminess, sweet toffee and cocoa cake batter, pistachio and stracciatella gelati, with a slightly peppery, even smoky(?) finish.

SUMMARY:

Surprisingly quite different to the old(er) Hedonism expression. While I would personally spend the few quid more for the old Hedonism(if I can still find it!), the prospect of subtle variations on a theme (100% grain) within this limited release series demands a loyal following. Lead the way.


Malt Mission #95
Malt Mission #97
Malt Mission #98
Malt Mission #99
Malt Mission #100
Malt Mission HOME