Caol Ila 12 yo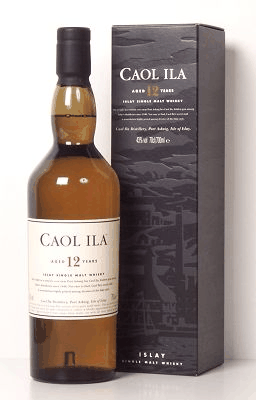 Islay Single Malt Whisky
43% abv
£27
$58.90 (CAD)
$45 (USD)
Caol Ila (pronounced kull-eela or like

THIS) means 'Sound of Islay' as it overlooks the narrow strip of water of the same name that lies between the islands of Islay and Jura. The phallic stills have a great view of Jura's Paps (mountains so named because of their resemblance to a pair of breasts), enough to keep them well excited over the years. It is one of two operating Islay distilleries owned by Diageo.

Built in 1846 and located on the north shore of Islay, near Port Askaig, Caol Ila's stills have fallen silent three times in its history: 1930-37, 1941-45, 1972-74. Like other Islay distilleries Bunnahabhain and Bruichladdich, when Caol Ila was built by Glasgow businessman Hector Henderson it created a full community of its own. Henderson went out of business in 1857 and the distillery was purchased by Bulloch Lade & Co. The Distillers Company Limited (DCL) took over management in 1927. Production continued with a few silent spells until 1972, when the entire structure of the distillery was demolished. A larger distillery was built, some say rather brusquely, and production resumed in 1974.
The
old warehouses
remain and bear the large black letters of the distillery name.
For many years, Caol Ila was the unsung workhorse of Islay distilleries and therefore doesn't enjoy the same celeb status that its neighbours in Bowmore and down on the south shore of the island do. It is the largest distillery on Islay and one of the largest that Diageo owns. The bulk of its output goes to blends and since 1999, they have produced whisky with unpeated barley for a few months each year, until recently used exclusively for blending (now some of this stock is released as Caol Ila 8 Unpeated). Caol Ila was available as a part of the Flora and Fauna series launched in 1989 as a 15 year old. In 2002 the 12, 18 and Cask Strength that we most commonly find on shop shelves were launched.

This whisky will be guest-tasted by my good friend JM who lost his truck but kept his life in an unfortunate car accident recently. The following are his impressions.

TASTING NOTES:

Salty sea air, peaty and smoky. Fresh air-dried bed sheets, sliced pear, granny smith apple peels.

Watery in the mouth but viscosity seems to increase with time. Instant smoke like a sudden wind change at a campfire, numbing and medicinal like Buckley's cough syrup, chewing on a Popsicle or lollipop stick, envelope glue.

SUMMARY:


This stuff inspires a lasting burn that leaves mouth and tongue tingly and sensitive like an hour after a trip to the dentist. Outdoorsy and rough even for a peat freak like myself.

Malt Mission #106
Malt Mission #107
Malt Mission #109
Malt Mission #110
Malt Mission HOME