Clynelish 11yo
Straight from the Cask, FYOB (Fill your own bottle)
at The Whisky Exchange, Vinopolis
58.9% abv
£30 (50cl)


Saw the new "Every Year Counts" Glenfiddich ads on telly last night... several times in a 1hr long program. They are part of a £23 million global communications campaign. It was actually a pretty good advert depicting various scenarios intended to parallel the distiller's heritage with those life possibilities that can often take years to realise; learning to play a musical instrument, to tango, to fall in love, etc. It is viewable here

. Now onto the REAL daily dram [a playful stab at the mention of

THIS

blog in a Whisky Mag (issue 64) piece that snubbed the daily efforts of yours truly. Daily? 2 posts in 2007. Dram? pah!].



I have said it before and I stand by it, I have never had a bad Clynelish. Sure, some have been better than others, but I have never had a

bad

one. This was one of the best.

Moved from its original maturing vessel to a quarter cask in the first half of 2006, this Clynelish sat in Vinopolis for several months, selling half litres at a steady pace. In that time, however, the smaller storage cask was able to impart some wonderful oaky depth to the whisky. It was the second last cask to dry up, but it was up against tough competition as Sukhinder Singh (pictured) manages to source some pretty incredible malts for the Fill-Your-Own-Bottle-Straight-From-the
-Cask stuff. There was an amazing Longmorn, a ballsy Caol Ila, an impressive anonymous bourbon, and a sensational Pampero Rum. The new line on cask at the shop is equally, if not more impressive: A young, sherried Ardbeg, dubbed "Quite Young"(ha ha), a bright gem from closed distillery Rosebank, a sherried beast from Speysider Aultmore, and another sensational bourbon cask from Clynelish.

For more Clynelish info, see Malt Mission #23


TASTING NOTES: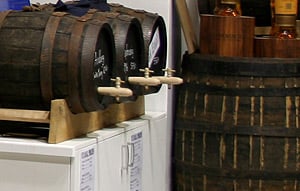 Corn, fresh figs, salt, mold on bread. Rich sweetness. Honey, Tiger-tail ice cream(an apparently very Canadian flavour, orange with licorice swirls). Some sherry and match sulphur.

Peppery, English mustard start, then it becomes more subdued; bread with prune jam, a stream of hot honey, salty fruitiness, like prosciutto and melon or ham and peach, or for Kosher and Halal palates, think prune-stuffed olives. Amazing how fresh it all tastes, scratch and sniff Willy Wonka Whisky.

SUMMARY:

When I worked at The Whisky Exchange @ Vinopolis (London Bridge) I looked forward to treating myself to a drop of this vanishing beauty when possible. I sold many bottles of the stuff, especially when I was craving a sip, specifically because I could speak so passionately about it. I am sad that these are the final drops of this particular expression, but am grateful for Colin at TWE for letting me taste the last remains. Always looking for another Clynelish to try...

Malt Mission #96
Malt Mission #98
Malt Mission #99
Malt Mission #100
Malt Mission HOME