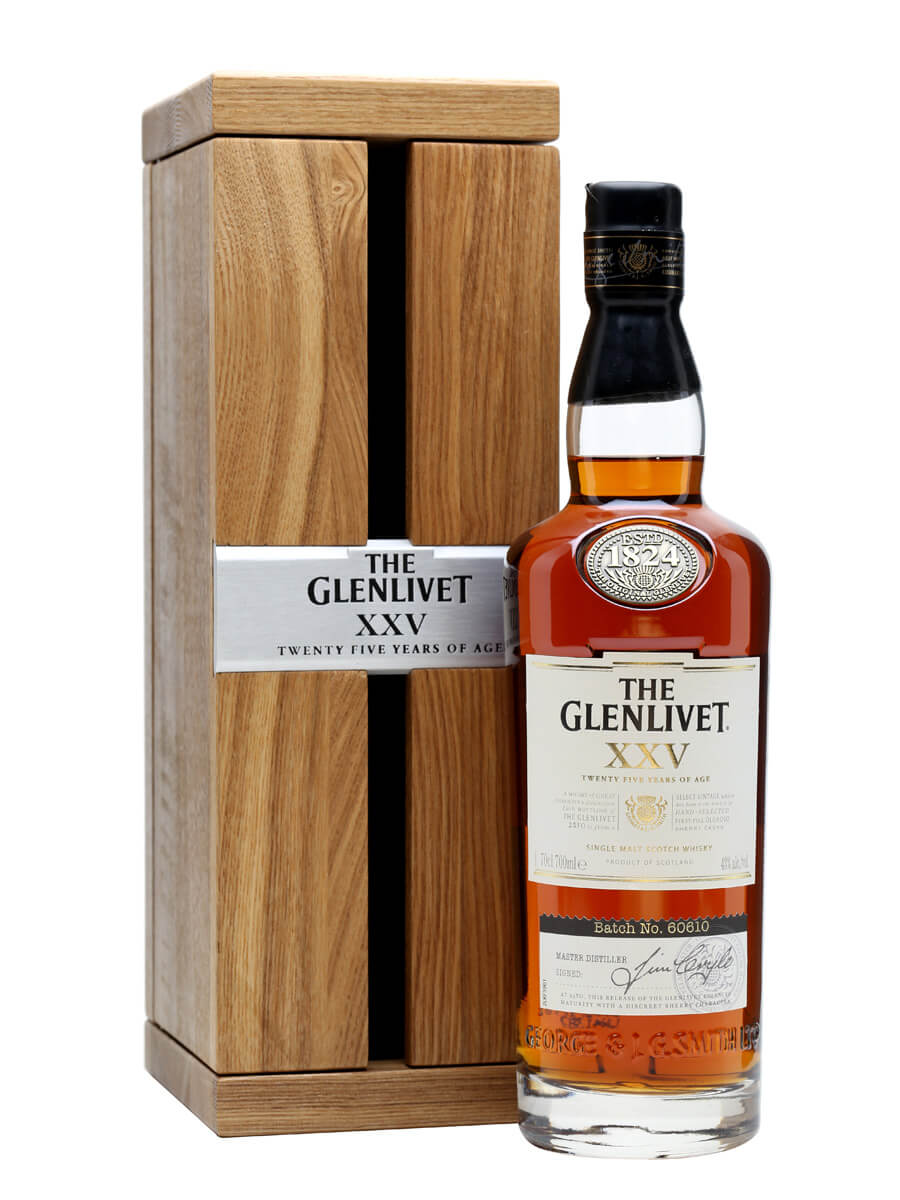 Glenlivet XXV (25yo)


Single Malt

Scotch Whisky


43% abv
£200

The new jewel in the Glenlivet range, this 25 year old was introduced over this past year with the determined aim to help push Glenlivet into the #1 spot in the world of premium Scotch whiskies... and to blow drinkers' socks off, flavour-wise.
This will become a permanent fixture in the Glenlivet range.

Some have complained about the packaging: folks (especially retailers) have taken issue the weight of the box and others have asked whether or not is is really necessary to use stone and wood to transport malt whisky, but the accompanying booklet is informative, intimate, and generally interesting. Is it what's inside that counts... ?
This is a bottling of whiskies filled to cask in 1980 that spent the last 2 years of their lives maturing in ex-Oloroso sherry casks. Neil Macdonald, told me, "I was originally inspired by a Berry Bros 1975 bottling of The Glenlivet which was a real sherried dream and it was clear that this style could work well with the Glenlivet." Without a doubt, 25 full years of Oloroso maturation would have killed the signature nutty, floral and honeyed notes of The Glenlivet. The secondary maturation adds (strong) overtones without sacrificing or harming the core malt. I will taste it today for the mission, but it must be said that I have dipped into this a few times already... and loved every second of if. Delicious. I have shared milliliters with other whisky lovers and everyone has been left singing its praises, if not speechless.


All Glenlivets had on the mission can be found HERE. This whisky was tasted with visiting whisky-loving Finnish friend TS. His notes appear in quotes.

TASTING NOTES:

Sweet and jammy with lots of depth. Very oak influenced. Chocolate covered nuts and raisins with incredible indications of age in the background. "You can smell that it's old. It's so big." Damp, mysterious basement that a child is both afraid of and determined to explore.

First dry, grippy and oaky then opens up to apples, cinnamon, vanilla and toffee. "Not too big in the mouth but a lots of flavour, Glenlivet style. Very smooth." Toffee, mint, orange marmalade, jam. Absolutely sumptuous and smooth. Long, gentle, silky finish with lingering fudge, sweet tobacco, and oak.

SUMMARY:

Not a morning malt. This beauty is for evening comforts. Tommi even thought it would be nice in the afternoon because it is so easy and pleasant. The tea-leaf element would make me agree with him. It is even energetic, not at all tired by 25 years in oak. But this is a slow conversation whisky... best suited for conversations of silence. "This is one of those whiskies where the taste of alchohol is in the background and all the other flavours are laid on top. It just continues and continues." The 43% abv is a good choice, the impact is so large that it really doesn't need a higher abv%. And while it takes water well, it certainly doesn't need it. Wonderful craftsmanship for the new pinnacle of the Glenlivet range.

Malt Mission #196
Malt Mission #197
Malt Mission #198

Malt Mission #200
Malt Mission HOME