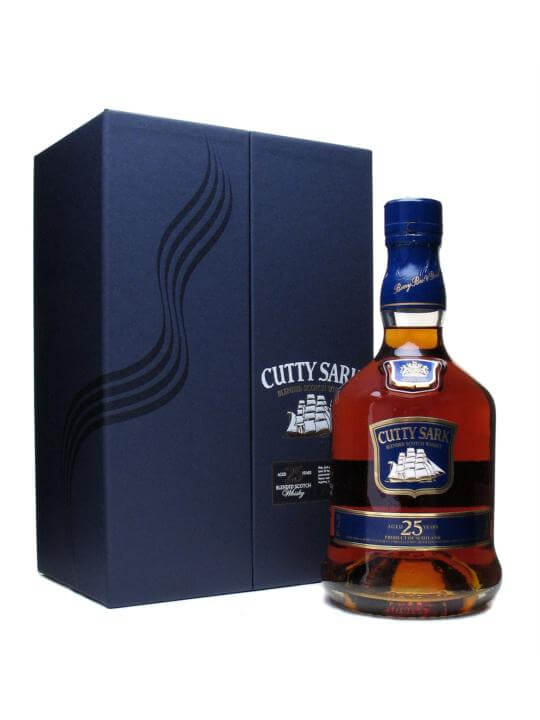 Cutty Sark 25 yo




Premium Blended Whisky


45.7% abv
£110
$230(CAD)

Happy Friday the 13th...
Another week flies by on this Malt Mission. Thanks for reading.

We'll be taking a short break from the mission next week as I will be in Norway, but you never know what gems I might try in the land of Aquavit, rakfisk, and the Vinmonopolet, so do check in. Otherwise, see you in 10 days when we start a Highland-themed week followed by two stellar Islay-themed weeks. But now to Cutty Sark 25, the Prince of Speyside blends...

We all mourn the tragic destruction of parts of the namesake of this series of blended whiskies, the historic Cutty Sark sailing ship. Details of the recent fire and more can be found HERE.

This 25 year old is a recent addition the Cutty Sark line-up and won Whisky Mag's Best of the Best 2003. Its introduction certainly puts it up against Johnnie Walker Blue, Chivas Royal Salute, and Dewar's Signature, etc., in the ultra premium blends category. I have no idea what whiskies make up the blend but can say there is a definite emphasis on sherry matured malts and I imagine Glenrothes is in there somewhere. Any and all info would be welcomed...

More brand information and history can be found at other Cutty Sark whiskies we've tasted in the mission HERE.


TASTING NOTES:

Brown sugar, sweet cream, raisins, rich sherry notes without losing whisky character. Black tea, licorice, coffee liqueur, and a touch of chocolate mint.

Big but soft impact, sherry and malted barley, some vanilla and orange ice cream with grain sweetness that has some petrol elements balanced perfectly against the malty nuttiness. Still with the cream and raisins and coffee-ish impressions from the nose. Finish has citrus and a touch of metallic smoke and dry sherry.

SUMMARY:

Confident whisky for decadent dramming. Love the slightly higher than average abv%, it really adds some grip and spice to the drinking experience. Brilliant blending on display here. Johnnie Blue could benefit from this lesson and up their abv% a few points.

*Price was great at LCBO ($175), but jumped 55 bucks since I first posted this. Expect more of the same across the board.


Malt Mission #116
Malt Mission #117
Malt Mission #118
Malt Mission #119
Malt Mission HOME