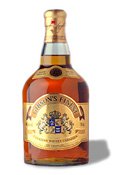 Gibson's Finest 12yo


Canadian Whisky
40% abv
$26(CAD)

Selling about 300,000 cases per year, Gibson's is a popular whisky in Canada and available almost exclusively in its home market where it is number 3 premium Canadian whisky nationally. We had the Finest Rare 18yo in my last post so I thought I would follow it up with its younger brother.

Now, people often refer to Canadian whisky as 'rye', and while it is true that at one time or another almost all of the whisky produced in Canada was made with a mash bill (mix of grains) of predominantly rye, many spirits we use this description for today are not regulated by any legal directive as the term is in the USA, for example. The law does dictate that, like with Scotch whisky, the Canadian whisky must be produced in Canada, and matured in oak casks IN Canada for at least 3 years.

Other big Canadian whiskies are Crown Royal and Canadian Club. For all Canadian whiskies had on the Malt Mission, click HERE.

TASTING NOTES:

Intensely sweet, toffeed with firm graininess keeping that sweetness in check. Maple syrup, honey, coca-cola, vanilla and a touch of envelope glue.

Waxy with a strong grain presence, slighly piney, rye kick. Buttery. Very gentle with a big vanilla-ed oak finish. Caramelly and soft throughout.



SUMMARY:



Really nice stuff that goes down easy. Lots of pleasant flavours, not overly complex, but very moreish and fairly priced.

Malt Mission #310
Malt Mission #312
Malt Mission #313
Malt Mission #314
Malt Mission #315
Malt Mission HOME