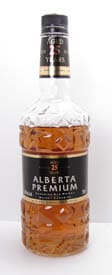 Alberta Premium 25 yo


Canadian Rye Whisky
40% abv
$30 (CAD)

In the first week (which now means 5 whiskies, not necessarily 7 days) back on the mission since the Malt Mission #300 landmark I want to have whiskies that start with the letter "A". Why?

1) because I have them
2) because I held a tasting for friends in Toronto recently with "The Letter A" as its theme (the Letter B will be next)
3) because the beginning of the alphabet can symbolise the beginning of our new lives in NYC and the new shape(s) this blog will take over the next little while.

No, I don't know where we're going with this, but it'll be fun so long as I can make it so. When that stops, well, then this stops.

I also hope to really dive in to the world of bourbons within the next 100 Malt Missions, but first I have to plow through my remaining Scotch whiskies. Maybe even explore the world of Tequila! Oh, Freedomland...what can't you offer me?

Some of you might also be wondering why I didn't do a big "thank you" post and "top picks" post, etc. this time (new additions would probably have been Greenore and Benromach Organic). Well, what is the point in celebrating anymore? The first 100, 200; okay. 300? Nah. Maybe 500 will get a retrospective. I mean, shit, Serge over on Whiskyfun hit 3000 (!!!) tasting notes in August 2007. Who the hell am I? (who the hell is he!?!!)

Usually the terms "Canadian Whisky" and "rye" are synonymous but this is not necessarily an accurate partnership; in fact, Alberta Premium is one of the last whiskies in Canada to be produced using 100% rye and is made by Alberta Distillers in Calgary, Alberta.

TASTING NOTES:

Rye, clearly. Caramel and generally sweet, corn syrup. Burnt and sweet, butterscotch flavouring like from an ice cream truck.

Easy. Corn sweetness. Doesn't bite, but is certainly boozy. Sweet and a little bit laundry-like. Corny, again.

SUMMARY:

Really, very much what you would expect and most reactions around the room proved this.
Like nail biting or teeth grinding this spirit annoyed at least half of the room.
My own mouth would have trouble drinking this neat for more than one dram. Did you notice the startling price of 30 bucks? Its fricking 25 years old, man!!! Good value? Maybe. Ginger ale? Yes please.


Malt Mission #300
Malt Mission #302
Malt Mission #303
Malt Mission #304
Malt Mission #305
Malt Mission HOME